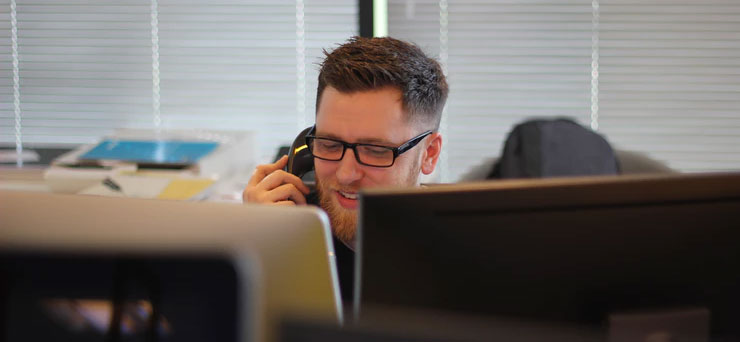 Phone etiquette is a highly valuable tool to have in an employee"s skill-set, and our Telephone Etiquette workshop will help provide those skills. This course will help your participants improve their phone skills which will make them more confident, improve sales, and help gain new customers while retaining your current clientele. A more confident employee is also one that is happier, and happier employees will produce happier customers.
Through our Business Telephone Etiquette workshop your participants will learn the skills to increase productivity and improve performance. This will produce a positive environment throughout your business and influence the organization as a whole. Recognizing the different skills used between inbound and outbound calls along with knowledge on how to deal with rude or angry callers makes this workshop a great investment.
Business Telephone Etiquette Course Outline:
Module One: Getting Started

Housekeeping Items
Pre-Assignment Review
Workshop Objectives
The Parking Lot
Action Plan

Module Two: Aspects of Phone Etiquette

Phrasing
Tone of Voice
Speaking Clearly
Listen to the Caller
Case Study
Module Two: Review Questions

Module Three: Using Proper Phone Language

Please and Thank You
Do Not Use Slang
Avoid Using the Term "You"
Emphasize What You Can Do, Not What You Can't
Case Study
Module Three: Review Questions

Module Four: Eliminate Phone Distractions

Avoid Eating or Drinking
Minimize Multi-Tasking
Remove Office Distractions
Do Not Let Others Interrupt
Case Study
Module Four: Review Questions

Module Five: Inbound Calls

Avoid Long Greeting Messages
Introduce Yourself
Focus on Their Needs
Be Patient
Case Study
Module Five: Review Questions

Module Six: Outbound Calls

Be Prepared
Identify Yourself and Your Company
Give Them the Reason for the Call
Keep Caller Information Private
Case Study
Module Six: Review Questions

Module Seven: Handling Rude or Angry Callers

Stay Calm
Listen to the Needs
Never Interrupt
Identify What You Can Do For Them
Case Study
Module Seven: Review Questions

Module Eight: Handling Interoffice Calls

Transferring Calls
Placing Callers on Hold
Taking Messages
End the Conversation
Case Study
Module Eight: Review Questions

Module Nine: Handling Voicemail Messages

Ensure the Voice Mail Has a Proper Greeting
Answer Important Messages Right Away
Ensure Messages are Delivered to the Right Person
When Leaving A Message for Others…
Case Study
Module Nine: Review Questions

Module Ten: Methods of Training Employees

Group Training
One-on-One Training
Peer Training
Job Shadowing
Case Study
Module Ten: Review Questions

Module Eleven: Correcting Poor Telephone Etiquette

Screening Calls
Employee Evaluations
Peer Monitoring
Customer Surveys
Case Study
Module Eleven: Review Questions

Module Twelve: Wrapping Up

Words From The Wise
Review Of The Parking Lot
Lessons Learned
Recommended Reading
Completion Of Action Plans And Evaluations
Includes Many Practical Scenarios, Exercises & Role Play in this 1 Day Practical Creative Problem Solving Training.

Have a Question or Need Corporate Training?
We Can Assist You.  Just Tell Us About Your Training Needs!
Best suited for Individuals, Employees in Sales, Customer Service, Purchasing, IT, HR, and other departments in companies.
Next Available Schedule:
October 14, 2019
Join Today!
Available for Customized Corporate Training at Your Office. Contact Us for more information!